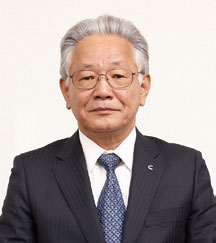 Chairman of the Gas Alarm Industries Association of Japan
Yoshinori Takahashi
The Gas Alarm Industries Association of Japan was established in December 1975 with the guiding principle of contributing to the safety and security of people's lives through the spread of gas alarms.
The world's first semiconductor-based LP gas alarm was launched in February 1969. Today, gas alarms are used in about 50% of all households that use gas.
The number of gas accidents has steadily fallen as safety equipment such as gas alarms, microcomputer meters and fuse gas taps have become commonplace. However, in recent years the number of accidents has remained high.
It is said that many accidents occur in places without gas or CO alarms. In the questionnaire-based consumer survey conducted by the Gas Alarm Industries Association of Japan in 2021, 4.1% of respondents said that their gas alarm had been triggered.
Many of gas accidents in recent years have been attributable to consumer's actions. Also, there have been many reports of gas alarms helping to prevent accidents.
With the full deregulation of city gas retailing in April 2017, new gas suppliers have increasingly entered the market. The Gas Alarm Industries Association of Japan aims to further promote the dissemination of gas alarms in an effort to eradicate gas accidents.
We humbly ask for the continued understanding and support of consumers in general households, gas suppliers and other stakeholders.
Gas Alarm Industries Association of Japan